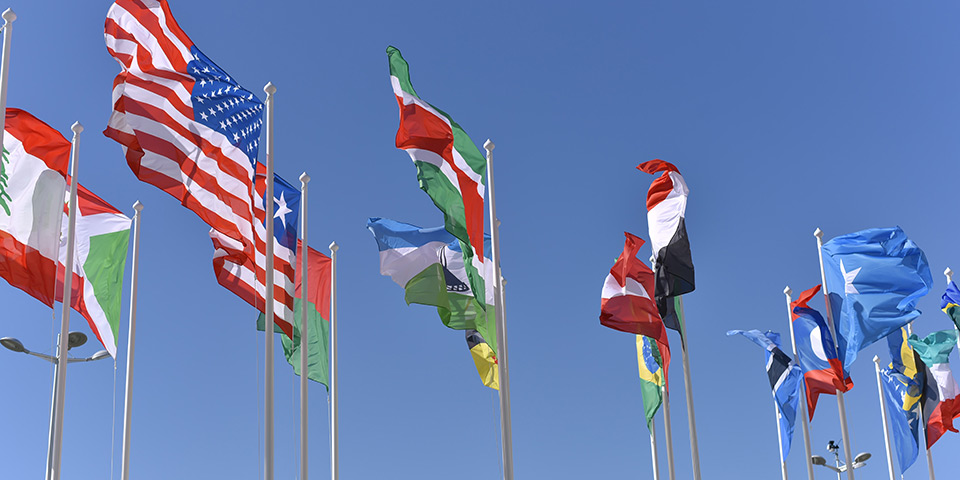 During the master's degree, students will independently investigate empirical questions concerning political phenomena, applying appropriate data collection and analysis methods. Examples of possible thematic areas include comparative foreign policy studies, power and conflict in international organizations, peace and conflict research, or the influence of interest groups in democratic systems. Students can specialize in one or more world regions according to their particular interests.
In addition to conducting independent quantitative or qualitative research on their chosen issue, students will also expand their knowledge of political science and other humanities subjects thanks to a broad range of courses which can be freely chosen from. They also have the option of completing an internship. This degree program prepares students for employment in diverse and challenging occupations in politics, administration, business and the media.
Focal areas of teaching and research
Political science at the University of Basel places a strong emphasis on international relations, as well as comparative studies between and within political systems. Another key feature of the program is that it combines content-related and methodological foundations with specialist knowledge on the student's chosen world region, thereby allowing students to pursue their specific interest in one or more regions. Other key areas of academic focus are democracy, political representation, peace and conflict studies, and the European Union.
This specialized approach enables diverse teaching and research collaborations with other departments within the social sciences. The program's focus on world regions complements and expands upon courses offered by other institutes and faculties. The geographical and cultural aspects of courses offered by the Center for African Studies, the Institute for European Global Studies and the departments of Middle Eastern Studies, Eastern European Studies and Literary studies make them an ideal complement to the political science program.
The master's program builds consistently upon the knowledge of political theory and methods acquired during the bachelor's program, and consists of four modules. In the Empirical Research Methods module, students will consolidate their skills in data collection and theory-guided analysis. These will then be put into practice as students conduct research as part of the Regional Focus module. Besides conducting independent research, students are expected and encouraged to participate in team-oriented work in study groups. The Further Political Science / Consolidation in Political Science and Further Social Sciences / Consolidation in Social Sciences modules provide the student with a broad range of course options that allow them to develop individual and complementary specializations.
In addition to acquiring subject-specific and interdisciplinary knowledge, students will also learn to independently design and carry out research projects, critically reflect on their research approaches, and successfully convey scientific knowledge and interdependencies both orally and in writing. The concluding part of this program includes a master's student seminar, a master's exam, and, if appropriate, a master's dissertation.
Program structure
A master's is a second degree that a person can earn after completing a bachelor's. The master's program requires a total of 120 credit points (CP). The Master's Degree Program in Political Science is combined with a second degree subject, each worth 35 CP. The subject in which students write their master's thesis (30 CP) is considered to be their major; the other subject is their minor. Free electives (20 CP) are also included. One ECTS credit point equates to approximately 30 hours of work.
Master of Arts (120 CP)
Major of the Faculty of Humanities and Social Sciences
65 CP (35 CP + 30 CP for the master thesis)
Minor of the Faculty of Humanities and Social Sciences
or extra-faculty
35 CP
Free electives
20 CP
Two degree subjects
Combination of subjects
The understanding of diverse theories and methods provided by political science is ideally suited to interdisciplinary study, and can be fruitfully combined with many other subject areas. Students are free to select a second master's degree subject that meets their specific interests. Students can choose a subject offered by the Faculty of Humanities and Social Sciences or a subject from another faculty. 
Students are free to choose any free elective. These courses allow students to deepen their knowledge of their degree subjects, gain an insight into other degree subjects offered by the University of Basel, or acquire language skills.
Career opportunities
From researcher to advisor, analyst, PR officer, project manager or media professional, a master's degree in political science opens the door to a diverse and exciting range of careers. These may be in international organizations such as the UN, NGOs, research groups in private sector firms (banks, insurance companies etc.), or in politics, management and the media. In principle, master's graduates will be well prepared for all activities requiring independent, methodical and analytical work.
Those wishing to embark upon an academic career can follow their master's degree with a paid or unpaid <link en doctorate external-link-new-window internen link im aktuellen>doctorate.
Something went wrong when loading the content. Please check the settings of the "Load Content" Plugin.