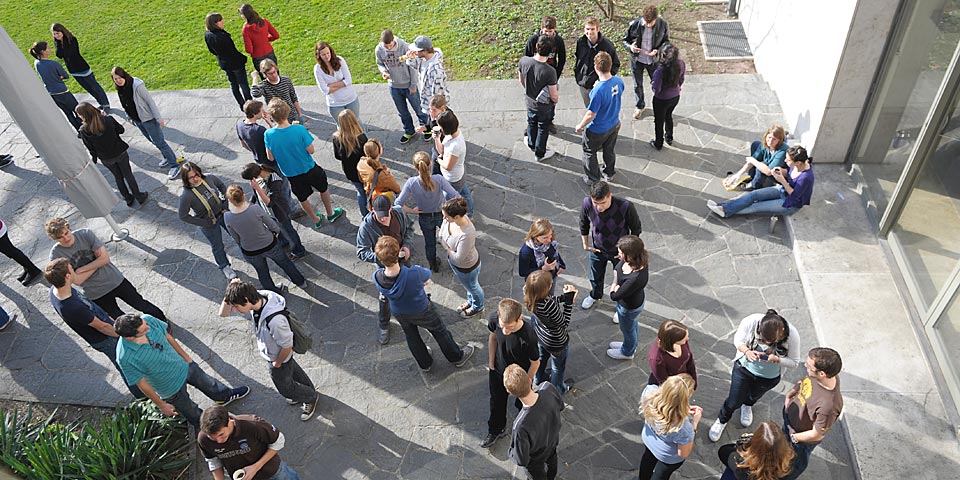 Sociology is dedicated to the theory and analysis of past and present societies. As a science of social relationships, it seeks to explore diverse social practices, processes and structures along with their interdependencies and transformations. It investigates how society is possible, how it functions, what problems it causes, and which of them it solves. The master's program in Basel is characterized by its tightly integrated combination of theory and applied science, enabling students to develop in-depth knowledge both of social theory and of applied quantitative and qualitative social research skills. Key topics of study include poverty and exclusion, violence, work, migration, digitalization, economic practices and discourses, education and religion.
Focal areas of teaching and research
The way in which the Master's Degree Program in Sociology is organized allows students to specialize in particular thematic areas while developing a sound methodological and theoretical knowledge base.
In the Sociological Theory module, particular emphasis is placed on the areas of social theory, power and authority, anthropology and evolution, and the development of interdisciplinary theory at the interface between sociology, social philosophy and cultural studies. Two modules are devoted to developing students' skills in qualitative and quantitative Empirical Social Research Methods. Meanwhile, Inequality, Conflict and Culture addresses topics such as poverty and exclusion, violence, migration, digitalization, economic practices and discourses, and education and religion, as well as other relevant phenomena in contemporary society. 
Research at the University of Basel's Department of Sociology focuses on the following topics:
nationally and internationally oriented research in inequality
international and transcultural research in conflict and violence
issues in socioeconomics and economic anthropology
historical sociology
digital transformations
sustainability
corporate governance
migration, transformations in the labor-oriented society, postcolonial theories and protest movements
Over the course of the program, students acquire transferrable skills and competencies which will prepare them for a wide range of professions beyond those specifically linked to sociology. These skills include the ability to conduct independent empirical research applying appropriate methods and techniques for problem identification, analysis and solving, the ability to critically evaluate different conceptual alternatives, capacity for innovation, social skills, time management, and many others.
Program structure
A master's is a second degree that a person can earn after completing a bachelor's. The master's program requires a total of 120 credit points (CP). The Master's Degree Program in Sociology is combined with a second degree subject, each worth 35 CP. The subject in which students write their master's thesis (30 CP) is considered to be their major; the other subject is their minor. Free electives (20 CP) are also included. One ECTS credit point equates to approximately 30 hours of work.
Master of Arts (120 CP)
Major of the Faculty of Humanities and Social Sciences
65 CP (35 CP + 30 CP for the master thesis)
Minor of the Faculty of Humanities and Social Sciences
or extra-faculty
35 CP
Free electives
20 CP
Two degree subjects
Combination of subjects
Students are free to select a second master's degree subject that meets their specific interests. Students can choose a subject offered by the Faculty of Humanities and Social Sciences or a subject from another faculty. 
Students are free to choose any free elective. These courses allow students to deepen their knowledge of their degree subjects, gain an insight into other degree subjects offered by the University of Basel, or acquire language skills.
Career opportunities
Thanks to their broad theoretical and methodological training, graduates in sociology from the University of Basel are sought-after in many professional areas. Depending on their degree level (bachelor's, master's or doctorate) - and in some cases in combination with a further diploma or course of study - sociology graduates may find employment in the following professional areas: public administration (culture, education, family, social affairs, statistical services), industry and trade (human resources and organizational departments, as well as market and opinion research), political parties, associations, social services and social pedagogy, adult education, cultural and knowledge management, tourism, advertising, mass media, specialist curating in libraries, development cooperation and migration, integration work in international organizations and NGOs, or research and teaching in universities and advanced technical colleges.