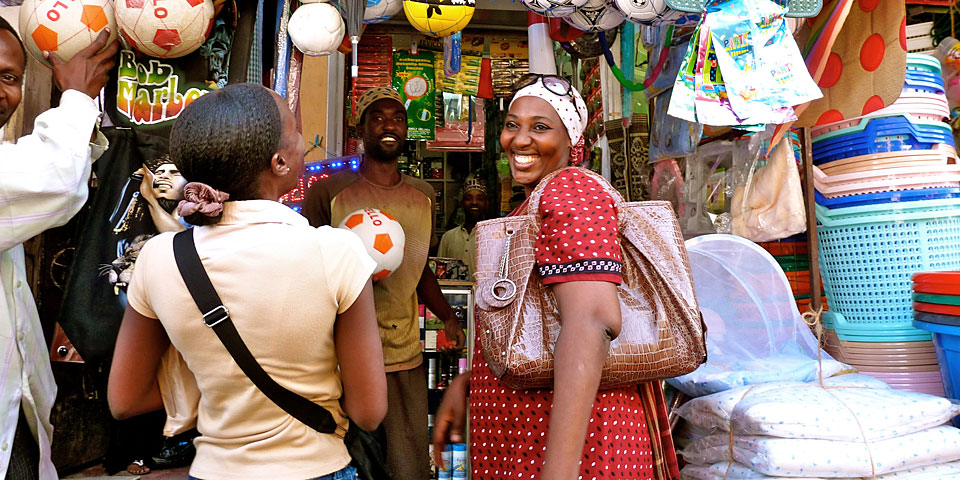 Anthropology (Bachelor's Degree Program)
Compare, understand and explain foreign cultures
Anthropology is the study of human beings in their full diversity. Its goal is to understand social action in different societies, and explain it in terms of its natural, social, political, economic and cultural contexts. In pursuit of this goal, anthropologists deal with both rural and urban spaces. They examine everyday practice, social and religious movements, the functioning of legal systems, conflicts, or the activities of state and international organizations, and explore how local cultures are embedded in regional, national, and global spaces. Characteristics features of ethnographic research are its comparative perspective and the methods of participation and observation employed. Field research, which often takes a year or more, remains a fundamental component of anthropology as a scientific discipline. At bachelor level, students engage with basic theories and methods, as well as specific topics and fields of research. The regional focus lies primarily on Africa and Oceania.
Focal areas of teaching and research
The regional focal points of the University of Basel's program in anthropology are Africa (primarily West, Central and East Africa), followed by Oceania (most notably Melanesia), Latin America, and Southeast Asia. Alongside general anthropology with its theories and methods, core teaching areas include political anthropology, visual culture, medical anthropology, anthropology of religion, ethnicity, identity and migration. Research focuses on visual culture, political anthropology and medical anthropology. The Institute of Social Anthropology cultivates strong interdisciplinary and international ties, and cooperates with institutes located in several African countries and Indonesia. All teachers are also involved in research groups and projects, ensuring lively exchangebetween research and teaching.
The bachelor program conveys the fundamental theoretical and methodological approaches of anthropology and its history. Topics include evolutionism, structuralism, and fieldwork. Students gain insights into specific fields of research and subjects within anthropology, in fields such as urbanization, culture, law or gender. Finally, they deal with the ethnographies of specific regions, exploring and comparing different social milieus and groups in these regions.
Program structure
A bachelor's is the first degree a person can earn. It requires a total of 180 credit points (CP). The Bachelor's Degree Program in Anthropology is one of two subjects studied, each worth 75 CP. Free electives (30 CP) are also included. One ECTS credit point equates to approximately 30 hours of work.
Combination of subjects
Students can choose a subject offered by the Faculty of Humanities and Social Sciences or a subject from another faculty as their second bachelor's degree subject. Combinations with disciplines that deal with societies and their cultures or aspects thereof (such as art or language), their norms (law), history or natural environment are especially recommended.
Students are free to choose any free elective. These courses allow students to deepen their knowledge of their degree subjects, gain an insight into other degree subjects offered by the University of Basel, or acquire language skills.
Bachelor's examination & degree
Students who have obtained 60 CP per subject area and have passed the seminar papers required for the degree are permitted to register for the bachelor's examination. To prove that they meet the requirements, they must provide their module allocation or automatic assessment email.
| | FS 2019 | SS 2020 | FS 2020 | SS 2021 |
| --- | --- | --- | --- | --- |
| Registration forms (degree subject / program) available from | expired | 03.02.20 | 01.09.20 | 01.02.21 |
| Registration period | expired | 10.03. - 26.03.20 | 29.09. - 15.10.20 | 09.03. - 25.03.21 |
| Examination | expired | 09.05. & 16.05.20 | 05.12. & 12.12.20 | 08.05. & 29.05.21 |
| Notification of grades | expired | 03.07.20 | 22.01.21 | 02.07.21 |
| Inspection of examination papers and degree application | expired | 04.08. - 20.08.20 | 26.01. - 11.02.21 | 03.08. - 19.08.21 |
| Graduation ceremony | -- | 10.10.20 | 17.04.21 | 09.10.21 |
Subject to subsequent changes.