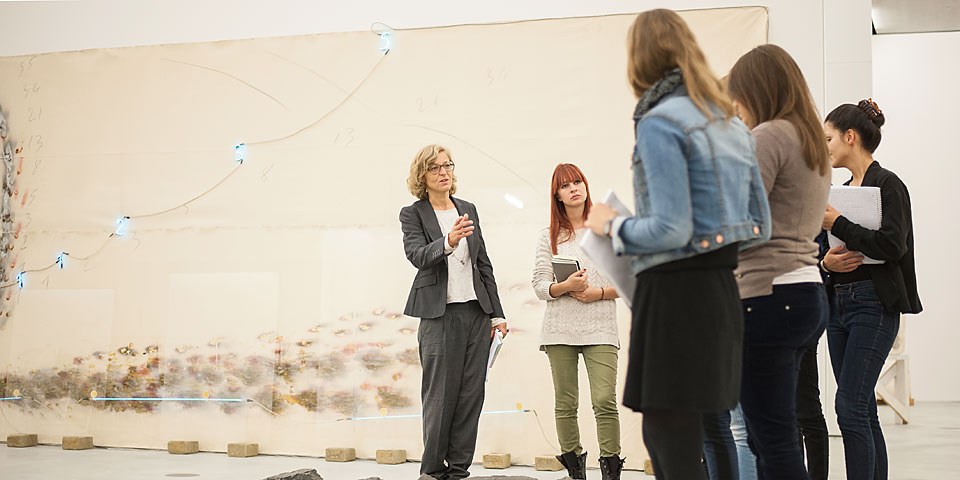 With one of the densest and most diverse museum landscapes in Europe, Basel is the ideal place to study art history. Art Basel, the Kunsthalle, Kunstmuseum, Fondation Beyeler, the Antikenmuseum Basel, Swiss Architecture Museum, Schaulager and many other institutions offer authentic contact with influential works, artists, trends and events. Working directly with original artworks is a fundamental component of the bachelor's program, which encompasses the history of the visual arts (painting, sculpture, plastic arts, object art, arts and crafts, design, photography, video, installation, performance, new media) and the architecture of European cultures from late antiquity to the present. In Basel, we place particular emphasis on identifying, investigating and conveying the historical, social, political and aesthetic dimensions of artistic and cultural heritage. Connecting contemporary questions with historical research forms the core of our approach.
Focal areas of teaching and research
The Department of Art History focuses on the art of the Middle Ages, Byzantine art, the reception of the Middle Ages, the art and architecture of the Renaissance, nineteenth- and twentieth-century art in Europe and areas influenced by Europe, contemporary art, and art and image theory. The department is divided into the following fields, each represented by one professor:
Medieval Art History (late antiquity, the early to late Middle Ages including Byzantine art until around 1500, reception of the Middle Ages)
Early Modern Art History (Renaissance and baroque, fifteenth to nineteenth centuries)
Modern Art History (modern and contemporary art, late eighteenth century to present day)
Theory of Art (Schaulager Professor)
Contemporary Art (Laurenz Assistant Professor)
These comprehensive thematic areas are complemented by teaching by research associates (for example on historical preservation, film and museum work), interdisciplinary lecture series, block courses. Teaching combines practical skills with comprehensive knowledge of historical works of art and discipline-specific theoretical skills. The bachelor's program also includes theoretical components in which students reflect on methods and art history as a discipline. In addition to historical skills, the program develops students' visual and argumentative skills in particular, as well as their understanding of hermeneutics in critical interpretation. 
The introductory module and the «Genres of Art History» modules (painting, sculpture and architecture) provide basic knowledge of the categories, criteria, analytical methods and specific terminology of art history. Students also learn about general and discipline-specific academic approaches and learn to present connections and contexts in the form of short presentations. The seminars, practical courses and lectures expand and deepen their knowledge of every era (medieval, early modern, modern and contemporary) and genre of art. Excursions encourage students to engage directly with artworks, while practice-oriented courses provide experience in future career paths.
Program structure
A bachelor's is the first degree a person can earn. It requires a total of 180 credit points (CP). The Bachelor's Degree Program in Art History is one of two subjects studied, each worth 75 CP. Free electives (30 CP) are also included. One ECTS credit point equates to approximately 30 hours of work.
Bachelor of Arts (180 CP)
Art History
75 CP
Degree subject of the Faculty of Humanities and Social Sciences
or extra-faculty
75 CP
Free electives
30 CP
Two degree subjects
Combination of subjects
Students can choose a subject offered by the Faculty of Humanities and Social Sciences or a subject from another faculty as their second bachelor's degree subject. 
Students are free to choose any free elective. These courses allow students to deepen their knowledge of their degree subjects, gain an insight into other degree subjects offered by the University of Basel, or acquire language skills.
Bachelor's examination & degree
Deadlines and dates Bachelor studies (see information sheets under documents and information sheets)
Students can register for the Bachelor's examination if they have achieved 60 CP in the subject to be examined or 120 CP in the degree program and have completed the seminar papers that count towards the degree in the subject to be examined or in the degree program. Proof is provided by presenting the module assignment.
It is now also possible to examine only one subject per session. This means that the two Bachelor's examinations can be divided into two sessions (note: only for subjects - it is not possible to separate the two examinations for degree programs).
Please consider: As a resolution the upcoming Bachelor exams will be taken online in the open book format until further notice. For detailed information please read the information sheet Registration Bachelor Examination as well as the information sheet Procedure Bachelor Examination carefully.
|   | FS 2022 | SS 2023 | FS 2023 |
| --- | --- | --- | --- |
| Registration forms (degree subject / program) available from | expired | 23.01.23 | 28.08.23 |
| Registration period | expired | 06.03. - 24.03.23 | 25.09. - 13.10.23 |
| Examination | 09.12. & 16.12.22 | 15.05. & 22.05.23 | 08.12. & 15.12.23 |
| Notification of grades | 20.01.23 | 30.06.23 | 19.01.24 |
| Degree application forms available no later than | 06.01.23 | 03.07.23 | 05.01.24 |
| Examination inspection and application for graduation | 23.01. - 10.02.23 | 31.07. - 18.08.23 | 22.01. - 09.02.24 |
| Graduation ceremony | 22.04.23 | 14.10.23 | 20.04.24 |
Subject to subsequent changes.
Continuing on to a master's degree